HEY O! Happy Monday!! I hope everyone had a great weekend!
I have a fun tutorial to share with you today!
The MOMMY & ME MAXI DRESS!
Pin It
No Pattern Necessary!
Here's What you'll need:
A tank top (preferably a ribbed tank top)
2-3 yards of knit fabric (I used 2 yards for me & my daughter)
Sewing Machine
Coordinating Thread
Scissors or Rotary Cutter
I'm going to show you using the little giggler version, because it's a lot easier to take pictures. :) The directions will be the same for both, just the sizes will be different.
First try on YOUR tank top. Mark it in the front about an inch lower than where you would like the dress to start. Smooth it out on a flat surface and cut straight across.
For the little giggler's tank top, I just eyeballed it. It was about three inches from the scoop neck. (She's a 3T)
If your tank top doesn't have seems down the sides (how the heck do they do that?) mark them with a pin. Most of the adult sizes have seems.
Now, on to the dress.
You're going to cut two same sized pieces. Mine were 29" x 46". I added extra length just in case. I'm only 5' 1". So, to get your size measure your width under your tatas. Then for the length measure from under said tatas to the floor. Add extra length just in case.
For the little giggler version I cut my pieces 15" x 24". She's almost 3yrs and will probably be taller than me in like two weeks.
Pin your dress pieces together with the right sides facing and sew the sides shut. You can serge or use a zig zag stitch.
I finally used my new serger!! WOO HOO!! I've only been staring at it totally intimidated since November!
Now set your machine to it's largest straight stitch. You're gonna sew around the top of the dress. Don't back stitch!
Next, pull your thread so the dress scrunches up to the size of your tank top.
Now have your tank top dive into your dress head first. The right sides should be facing each other. I'm gonna show you this with a ribbed tank top and a non ribbed tank top. I prefer the ribbed, but they both looked cute.
Now start pinning by matching up the seems of your tank and dress. If you don't have seems, use the pins we added earlier as guides.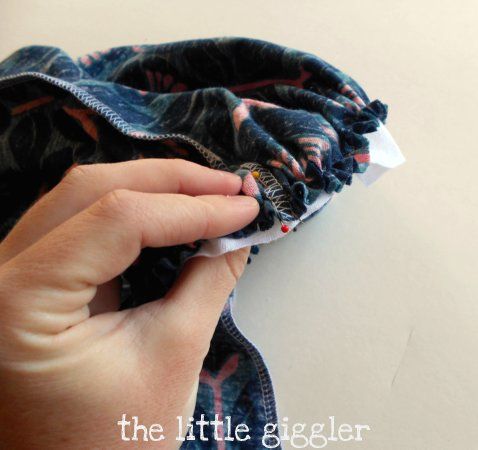 Pin the centers next, then work your way around.
It's easier with the ribbed, because it's already snug.
Now zig zag stitch or serge all the way around. We're almost done! :)
Try your dress on. Have some one else mark the length for you, so you can stand up straight. Do the same for your little one. Then hem the bottom and your done! Since it's knit you really don't have to hem the bottom if you don't want too, but I like the way it looks. If you plan on wearing it with heals, make sure you wear them when you're marking the length!
That's it! What do you think?
I may have gotten a little bit carried away. I just figured out how to use my serger! Can you blame me!
We love our new dresses!
She chose her own accessories. :) And yes she has SEVERAL custom made felt crowns, but she chose that. Gotta love her!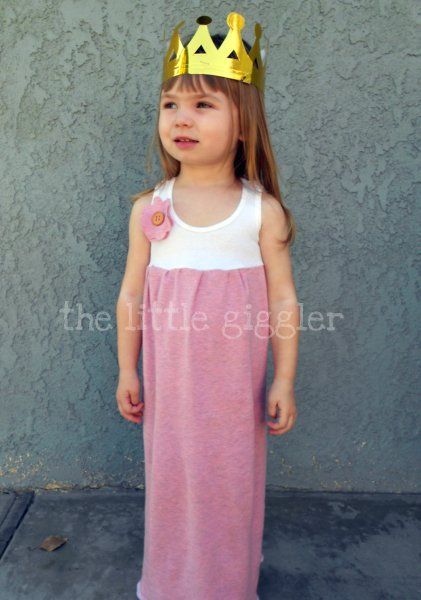 Super cute headband: Lilypie Accessories
I hope you enjoyed my tutorial! Come back tomorrow and I'll show you how I made the gray tunic. :)
Here are some other great Maxi Dress Tutorials to check out!
The Soho Maxi from Sew Much Ado.
The Boho Maxi Dress from Sweet Verbena.
The Oasis Dress by Kojo Designs
Twisted Strap Maxi Dress from Made by Lex
I like to link up to THESE awesome parties!