*Try this at your own risk.
I've gotten a TON of questions about my Pink Skinny Jeans. Thank you for all the sweet comments too! I love reading them! No thank you to the haters that don't think they're the same jeans (why would I do that?). Anyways, I decided to bleach another pair so I could show you step by step how I did it and hopefully answer all your questions.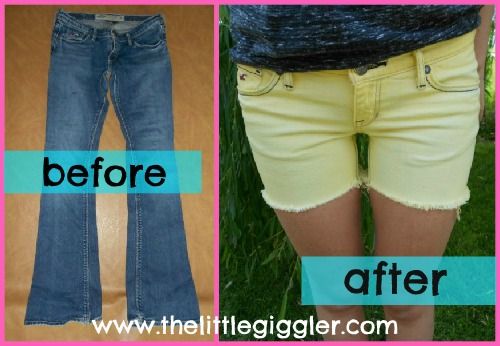 I'm making shorts this time because well...it's freaking hot in SoCal right now.
I started out by trying on the jeans. I marked them where I wanted to cut, then cut them.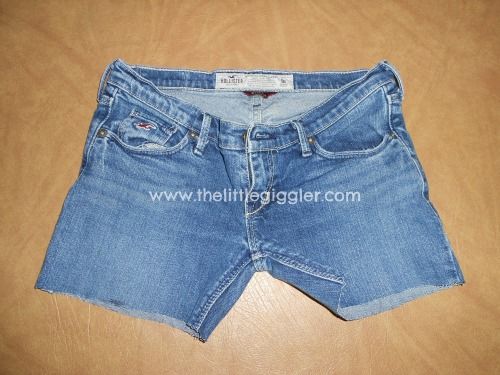 Here's some tips before you bleach:
-Don't use jeans that have holes. The bleach will just eat them away.
-Don't use too much bleach. Slow and steady people.
-Check on the jeans frequently while they're in the bleach. If they look like they're not progressing, take them out.
-Make sure your jeans are somewhat good quality. If they're too thin they will just fall apart.
-Don't try this with you're brand new $80 jeans. I used jeans that were given to me, so I wouldn't be devastated if they didn't turn out cute. (This is a great project for thrifted jeans.)
Don't have a Pinstrosity or a Craftfail.
I used generic bleach....and it WAS a great value.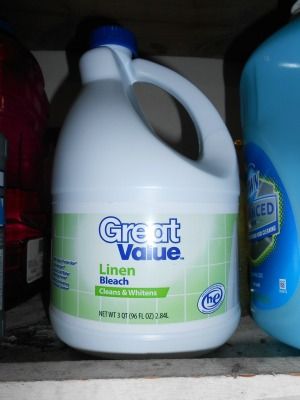 I used a 16 Liter plastic tub to bleach the jeans in. That translates to 4.22675 gallons if your doing the math. I only used about 1/3 of the tub because the shorts are small. You just want to make sure the jeans have room to move around freely. It's ok if the jeans are folded, they don't have to be laid all the way out. Just stir them around every once in a while.
I used 3 parts luke warm water and 1 part bleach. They will bleach faster if you use more bleach, but the quality isn't as good. I wet the jeans with warm water before I put them in the tub.
After each time I bleached I put the jeans in the washer on the rinse only cycle. I also dried them each time, but you don't need to do that. I just did it so you could see exactly what color they were in the pics.
Here are the jeans after four hours in the bleach/water. I started out slow (4hrs) so I could see how the jeans felt. So in this pic they have been bleached for 4 hours, rinsed in the washer and dried in the dryer. So far not much difference.
Here they are after 9 total hours in the bleach /water. Bleached, rinsed, dried. They're getting lighter, but not white yet.
After 19 total hours in the bleach/water. Bleached, rinsed, dried. Almost white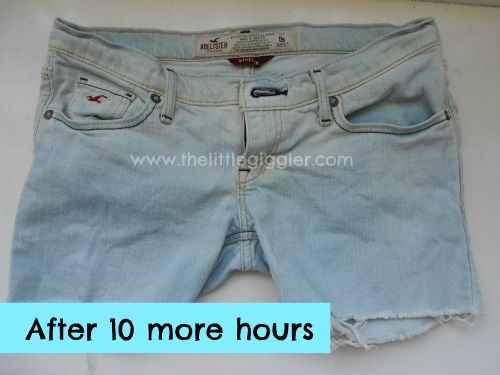 After 31 total hours in the bleach. Bleached, rinsed, dried. Now they're white and ready to be dyed!
As you can see it takes a looong time to get the jeans white.
I used Tulip Fabric dye in the color Sunshine. I think it worked well and the directions were simple. I would definitely use it again.
The directions say to stir the fabric around for 15 minutes, then let them sit for 45 minutes. I didn't want my shorts super yellow, so I stirred them for 15 minutes and let them sit for an extra 5 minutes.
I also used the same 16 Liter plastic tub to dye the jeans. I DON'T recommend dying them in your bath tub. I dyed my parents bathtub blue in a jr. high tie dying incident. I had to spray paint the bath tub white so they wouldn't find out. True story.
Here's what they looked like before I washed them and they were still wet. They look a lot brighter than they ended up.
Here they are washed, dried and done!
What do you think?
Here's the tags for you non believers.
If you have any more questions please leave a comment or email me at thelittlegiggler@yahoo.com and I'll get back to you as best as I can.
Have fun refashionistas!!